Our weather at the end of last week was very reminiscent of the Pacific Northwest and made me think of fresh clam chowder. However, since FRESH clams are not a common item at my house, and since fresh is the only way to eat clam chowder, and since I don't really want to chop up little slimy clams to make my own clam chowder, I decided to make another recipe that originated from that rainy region of the country: Spinach Garlic Soup. Don't stop reading right now if you are not a huge spinach eater – neither is my husband and it met his approval, and that of my daughter with her discriminating palate. I found this on allrecipes.com and then adapted it to our tastes.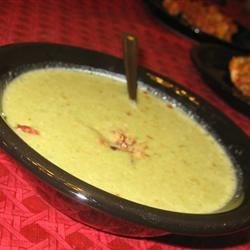 One Pan Spinach Garlic Soup
Ingredients
1 bunch fresh spinach, trimmed and finely chopped
4 cups chicken broth
2/3 cup shredded carrots
1/2 cup chopped onion
6 cloves garlic, minced
1/3 cup butter or margarine
1/4 cup all-purpose flour
1 cup half & half (or ½ cup cream & ½ cup milk)
1/2 teaspoon pepper
pinch ground nutmeg
3 slices cooked bacon, chopped
Directions
In a 5-qt. Dutch oven, bring broth, carrots, garlic & onion to a boil. Reduce heat; simmer 5 minutes, stirring occasionally. Remove from heat; cool to lukewarm.
Add flour, butter & half & half; cook and stir over low heat for 3-5 minutes until thickened. Add spinach, bacon, pepper & nutmeg; heat through but do not boil.
Optional: top with grated cheese and croutons (we did, it was great!)
Now for my tips.
If you want to dirty another pan (???), you can make the soup look slightly less green by cooking the spinach in a skillet & a little oil just until the leaves wilt. Transfer them to a colander and let them drain before throwing them in the soup. I suppose knowing how to make your soup less green is good, but I am willing to deal with a little spinach juice in my world.
Nevertheless, if you pre-cook & drain your spinach, you could even use the same pan you used to brown the bacon in – except that I have discovered the wonder of pre-cooked bacon and all its fabulousness! (You could also brown the onions and garlic in the grease to soften them too. I just chopped mine really small and threw them in the broth.)
So, pre-cooked bacon is my first tip. Keep it in your fridge and throw it in soups, on salads, sandwiches, in casseroles, or eat it for breakfast. It really isn't that different cost-wise, and you get the same number of slices per box. Yes, the unbaked weighs more, but unless you eat the grease that melts off when you cook it, you don't eat all that weight anyhow.
Tip number two is to find pre-minced garlic in your salad section of your grocery store. It is usually near the pre-bagged salads and refrigerated salad dressings. It comes in either a squeeze tube or a little jar. You might have to look around a bit, but it is worth it. They also have basil, ginger and cilantro like this. We use garlic the most. These little containers last forever – unlike the fresh varieties – and make it so easy to use fresh ingredients when cooking instead of the flavorless dried versions that have been in your cupboard since you got married (admit it, you clean out your spice drawer even less often than you clean behind your fridge.)
So those are my tips for the day: pre-cooked bacon and refrigerated fresh minced herbs & spices, along with a creamy soup recipe that you really must try this coming week when the next rain storm rolls in and you need some comfort food.